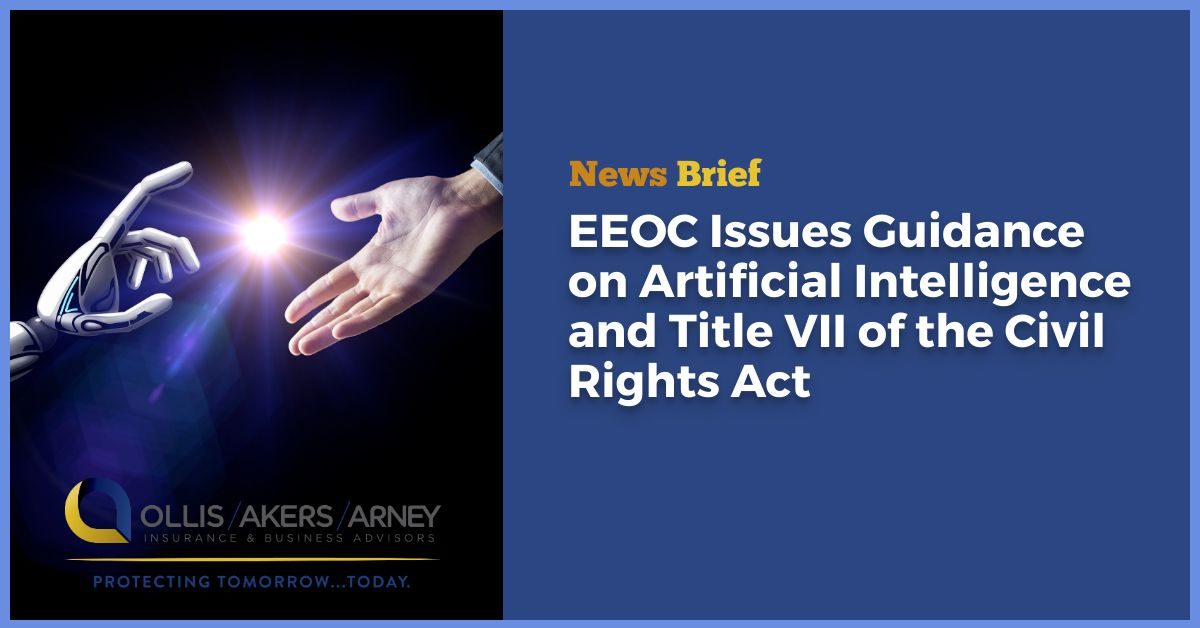 On May 18, 2023, the Equal Employment Opportunity Commission (EEOC) issued new guidance aimed at helping employers that use automated systems, including those with artificial intelligence (AI), comply with federal fair employment laws.
The new guidance focuses on preventing discrimination under Title VII of the Civil Rights Act (Title VII), which applies to employers with 15 or more employees and prohibits discrimination based on race, color, national origin, religion or sex (including pregnancy, sexual orientation, and gender identity).
Automated Systems and Disparate Impact Under Title VII
Employers increasingly use automated systems to help with a wide range of employment matters, such as selecting new employees, monitoring performance, and determining pay or promotions. Without proper safeguards, this use may result in a disproportionately large negative impact on certain groups based on a protected trait under Title VII. This unlawful effect is known as "disparate impact."
Focus on Employer Selection Procedures
The risk of disparate impact exists whenever an employer uses automated systems for any type of employment decision. However, the scope of the EEOC's new guidance is limited to helping employers assess whether their "selection procedures" may violate Title VII. Selection procedures are the processes an employer uses to make decisions related to hiring, promoting or firing. The guidance aims to assist employers in evaluating whether their use of automated systems in these procedures may result in an unlawful disparate impact.
Selection Rate Check
As explained in the guidance, employers can assess whether a selection procedure has an adverse impact on a particular protected group by checking whether its use causes a selection rate for individuals in the group that is "substantially" less than the selection rate for individuals in another group. If a procedure has a disparate impact based on race, color, religion, sex or national origin, the employer must show that the selection procedure is job-related and consistent with business necessity. If this standard is met, the employer must then determine whether any less discriminatory alternatives may be adopted to avoid the disparate impact.
Employer Action Steps
Employers that use automated systems in their selection procedures should become familiar with the EEOC's new guidance and conduct an ongoing self analysis to determine whether they are using technology in a way that could result in discrimination.
IMPORTANT INFORMATION 
New EEOC guidance addresses how Title VII applies to the use of automated systems in employment decisions.
The guidance focuses on employer hiring decisions and whether the use of automated systems to make those decisions may result in a disparate impact on groups protected under Title VII.
The guidance is part of the EEOC's Artificial Intelligence and Algorithmic Fairness Initiative launched 2021 and follows guidance on AI and the Americans with Disabilities Act issued in 2022.
Along with other federal agencies, the EEOC recently issued a joint pledge to vigorously enforce Title VII and other anti-discrimination laws as AI use becomes more common.
This Legal Update is not intended to be exhaustive nor should any discussion or opinions be construed as legal advice. Readers should contact legal counsel for legal advice. ©2023 Zywave, Inc. All rights reserved.