Public Entities – Emerging Risks
Home » Professional Services Department –
Schedule Your Risk Profile Assessment
Risk Profile Management is crucial in the successful administration of a professional services organization. Understanding your unique risk profile score and how it is impacted by multiple factors, including emerging trends like those above, is the first step in developing the Risk Profile Management Program.
The goal of a risk profile is to provide an unbiased understanding of your organization's ability to address risk by assigning a score to different types of risks and the danger they pose. By staying on top of potential threats, we can help you plan and control for emerging risks through documented and measured strategies.
What is Your Score?
Intelligence Quotient For Risk Management
1. Examine Risk
We will investigate your potential risk by asking questions to determine your specific needs.
2. Develop Strategies
We will design a custom plan to improve your Risk Profile.
3. Go Phase
We will work with your to make sure the plan is executed.
4. Evaluate Results
Our process continues with accountability and monitoring the measured results of the program.
KNOW YOUR SCORE!
Professional Services organizations face a unique environment regarding liability. The contrast between evolving exposures, litigation trends and the acute pressure to reduce costs. Aligning operations with required budget constraints creates a complicated web of choices for leaders of professional service groups.
One of the most important factors to consider when managing your property liability coverage for professional services is the true cost of risk, not the price of the premium.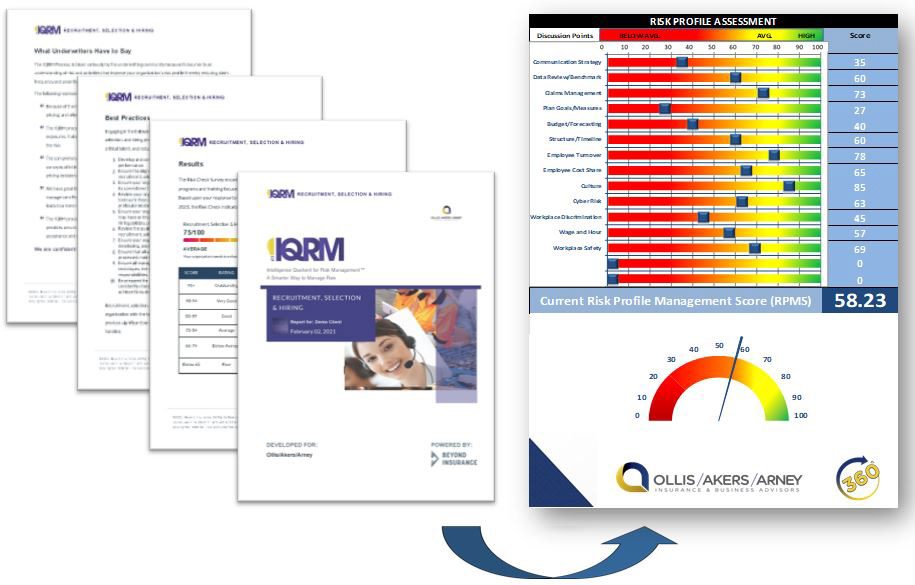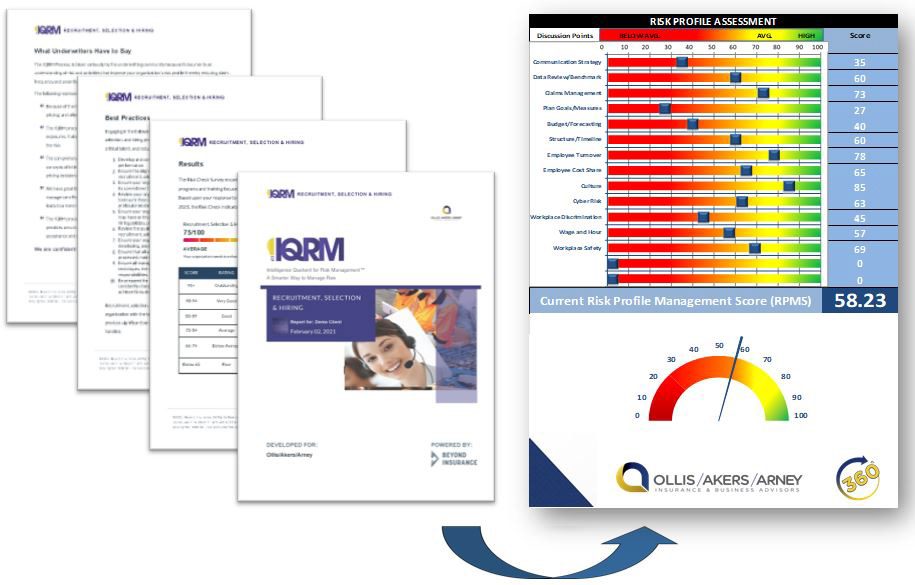 Schedule Your Risk Profile Assessment
Our Public Entities Team
Industry Expertise
Human Resources
Resolving Workplace Conflict
Employee Engagement
Compensation Strategies
Leadership Development
Policy Review including Medical Marijuana and COVID Sick Time
Talent Attraction and Retention Strategy
Government Compliance/Documentation
And More
Industry Specific Expsosures
Property Valuation Updating
Employment Practices Liability
Cyber and Data Breach Exposure
Workers' Compensation
Disaster Planning
Employee Benefits Strategy
Emerging Trends
Self-Funded, Level-Funded and Fully Insured
Communication, Education and Technology
Design Options
Wellness
Enrollment Options
Data Benchmark Analysis
Agency Exclusive Resources
Ergonomics Review
Active Shooter Preparedness and Response Planning
Onsite Training
Online Client Portal
Dedicated Claims Management
Claims Review and Strategy
Insurance Benchmarking
Wellness Director/Programs
Health and Wellness Newsletters
Multiple Market Insurance Negotiating
Risk Transfer Review
Risk Assessment and Recommendation
EMOD Projection and Analysis
Agency Awards
Springfield | Branson | Bolivar
Schedule Your Risk Profile Assessment
As an independent agency, we are here to help you find the right coverage.
Meet With Us
It only takes a minute to get started.
Complete the form, we'll be in touch.

Discuss resources and options with us.

Find the solutions you need.
Would you rather discuss this in person? Get in touch with an agent today!